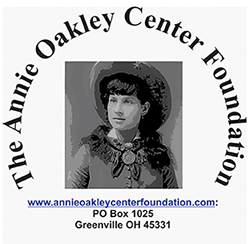 The Annie Oakley Center Foundation, incorporated December 2009, is a non-profit
501 (C) 3 corporation.
Board of Directors include
Eileen Litchfield, Chairman
Bonnie Perry, Vice-Chairman
Marilyn Robbins, Secretary
Jeff Perry, Board Member
Michael Ross, Board Member
Carol Pence, Executive Director
The purpose of the Annie Oakley Center Foundation is
to promote the memory of Annie Oakley,
to create and maintain exhibits in cooperation with the Garst Museum of Darke County, Ohio,
to receive funds for the support thereof,
to acquire and preserve Annie Oakley memorabilia, and
to conduct any and all activities in to further these objectives.
The Annie Oakley Center Foundation, Inc. can be reached at P.O. Box 1025, Greenville, OH 45331.
The AOCF appreciates the research, design, construction, support and enthusiastic efforts on the renovation of the National Annie Oakley Center at Garst Museum, phase 1 and 2 in 2010 and 2012 by
Fred C. Brumbaugh, Chairman
Dustin Nealeigh, Designer/Fabricator
Floyd Barmann, Designer/Writer
Dave Heckaman, Historian/Writer
The website was designed and developed by Amy Lee.
Please help support the Annie Oakley Center by donating to the Foundation.